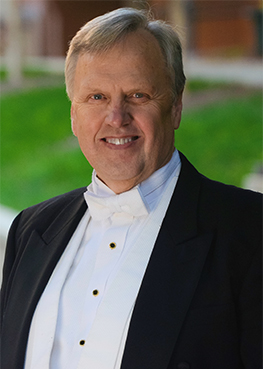 2017 Artistic Director: Stan Engebretson
In Washington, DC since 1990, Dr. Stan Engebretson is Professor of Music and Director of Choral Studies at George Mason University.  He also is the Artistic Director of the National Philharmonic Chorale and is the Director of Music at the historic New York Avenue Presbyterian Church that is famous for its connection to Abraham Lincoln and its championing of American music.  He leads major performances at Mason and conducts masterworks ranging in size from Handel's Messiah to Berlioz' Requiem with the National Philharmonic at The Music Center at Strathmore.  He has appeared on concert stages throughout the United States and in Europe, Asia, and Australia and has studied with the great masters of choral music, including Robert Shaw, Gregg Smith, Richard Westenburg, Roger Wagner and Eric Ericson, Conductor Emeritus of the world-renowned Swedish Radio Choir in Stockholm, Sweden.
Hailing from the upper Midwest, Engebretson grew up in a musical environment singing in the Scandinavian choral tradition.  His love of Celtic traditions began here from his Icelandic heritage with its strong connection to Irish music.  He earned Bachelor's and Master's degrees in Piano and Voice from the University of North Dakota, and has a Doctor of Musical Arts degree in Conducting from Stanford University.  Before moving East, he taught in the University of Texas system and at the University of Minnesota. In addition, he served as the Artistic Director of the Midland-Odessa Symphony Chorale and was the Associate Conductor of the Minnesota Chorale.
In 2009 he served as a Fulbright Scholar to Iceland and since 1992, he has lectured for the Smithsonian Institution at the Bach Festival in Carmel, CA; the Aspen Music Festival in Aspen, CO; and the Spoleto-USA Festival in Charleston, SC.  Abroad in recent seasons he performed in festivals presented by the Europa Cantat and AMJ (Arbeitskreis Musik in der Jugend), plus other concerts, masterclasses, and workshops in Germany, Spain, France, Italy, Russia, Lithuania, Iceland, Switzerland, China, Korea, and Australia.